Our Coaches and Staff
 Our Team at CrossFit Prototype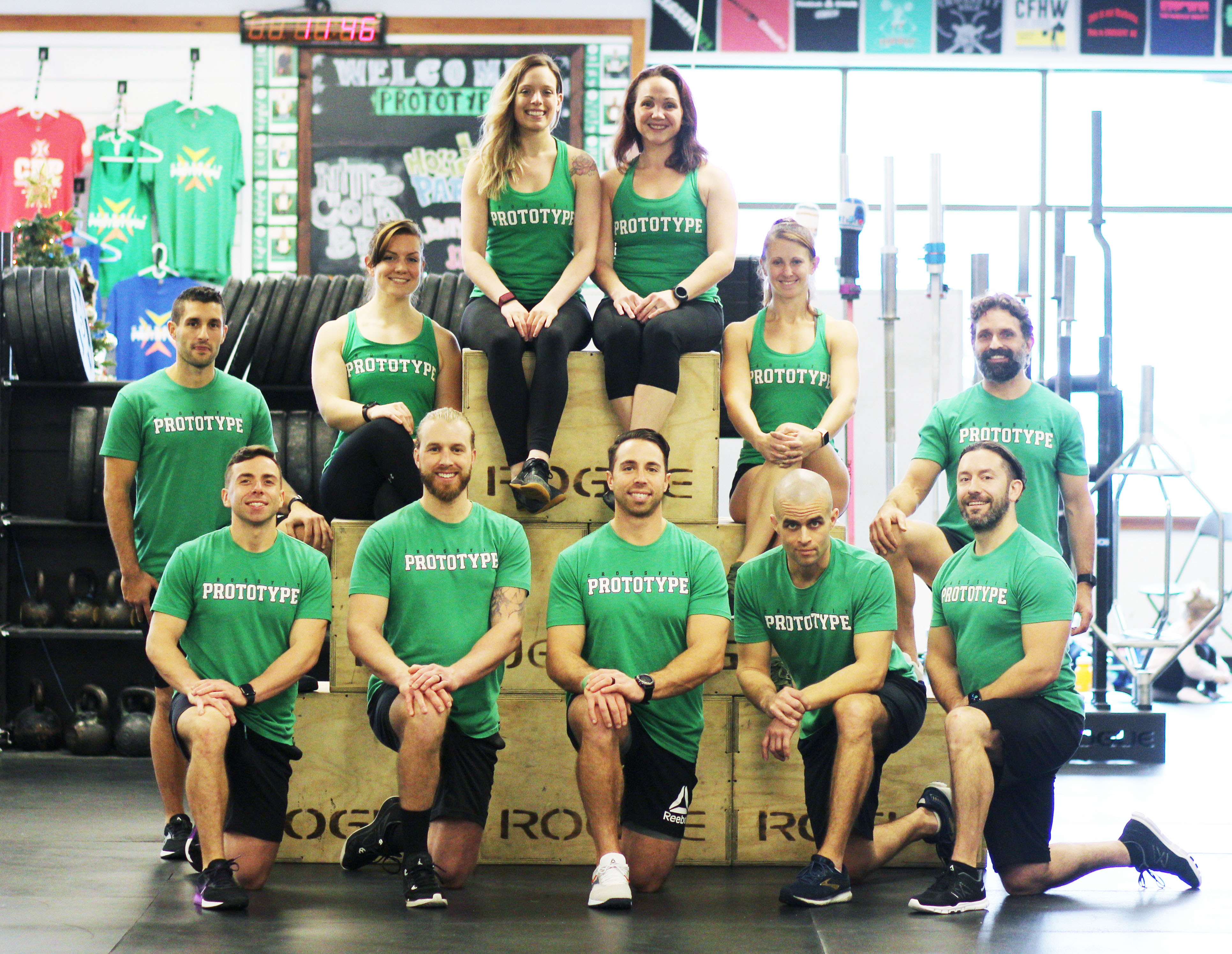 Michael Collette B.S
Owner of CrossFit Prototype
Michael Collette has been in the personal training field for over 9 years and has 12 years of experience in the field of exercise physiology. Michael graduated Cum Laude from Westfield State University with his Bachelor's Degree in Movement Science with a concentration in Sports Medicine. Michael's passion for CrossFit training started while he was in his senior year and final semester at WSU. His interest peaked while he was a Master Trainer at Boston Sports Clubs in Westborough and used the CrossFit training methodology and his Sports Medicine background to help his clients reach their goals both physically and mentally. Michael has a vast training background from training high school and collegiate athletes to the general population. His training philosophy is simple and stems from his Sports Medicine.
---
Certifications:
B.S in Movement Science w/ Concentration in Sports Medicine
CrossFit Level 1
CrossFit Level 2
Certified Speed and Agility Coach (CSAC)
Certified Weightlifting Performance Coach (CWPC)
CrossFit Mobility
USAW Sports Performance Coach
NASM Certified Personal Trainer
NASM Corrective Exercise Specialist
IGNITE! Neuromotive Coach
CPR/AED Certified
Interests and Activities: CrossFit, quoting movies, eating, playing new sports, relaxing and enjoying time with family and friends
Favorite Quote: "Hard work always beats talent when talent refuses to work hard"
Contact: Mike@crossfitprototype.com
---
Brian Zancewicz
 Head Coach | Personal Trainer

Brian has been in the personal training field for twelve years and has been fortunate enough to have over 18 years of exposure to high-level powerlifting, strong man, and MMA training. Brian's passion for CrossFit training started when a friend and sparring partner in law enforcement introduced him to it.  The programming, methodology, essence of community, and most of all the fact that CrossFit was universally for everybody, held much appeal to Brian. Brian has been CrossFit level 1 certified for over four years and he holds certifications as NASM certified personal trainer, NASM corrective exercise specialist and USA weightlifting sports performance coach level 1.
---
Certifications:
CrossFit Level 2
USAW Sports Performance Coach
NASM Certified Personal Trainer
NASM Corrective Exercise Specialist
CPR/AED Certified
Interests and Activities: CrossFit, Jiu jitsu, increasing consciousness and enjoying time with family.
Favorite Quote: "There is no salvation in time, you cannot be free in the future. Presence is the key to freedom, so you can only be free now"
Contact: Brian@crossfitprototype.com
---
Jon Collette
Prototype Nutrition Director | CrossFit Coach | Personal Trainer
Jon has been working 1-1 and in small groups with clients on their nutrition for 3 years now. His approach to nutrition is about forming sustainable lifestyle habits to help you succeed. His mindset when it comes to nutrition is not about restricting any specific foods or drinks put understanding how to incorporate them to meet your lifestyle and goals. Jon has experience working with youth athletes, Women getting ready for their weddings, Men looking to increase strength/size, and overall population looking to lose weight and increase their energy without sacrificing their favorite foods.
---
Certifications:
HSPA (Certified Sports Nutrition Coach)
Precision Nutrition (PN-L1)
CrossFit Level 1 Certified
Ignite Neuromotive Coach
ISSA Personal trainer
CPR/AED Certified
Interests:
-CrossFit, Running, Hiking, Sports, Outdoors, Movies, Music
Favorite quote
-"Do or do not. There is no try." -Yoda
Contact: Jon@crossfitprototype.com
---
Joe Black B.S
CrossFit Coach | Personal Trainer | Prototype Barbell Head Coach
Growing up, I was always active and involved in sports (baseball, basketball, cross-country, indoor track and rollerblading). In 2011, I discovered CrossFit and was instantly hooked. In 2015, I switched my focus to Olympic-style Weightlifting, training with Strength Ratio out of Asheville, North Carolina and competing locally at weightlifting meets throughout Massachusetts.
One of my passions is helping others, which is what led me to coaching and personal training. In January 2017, I quit my corporate job to pursue my passions. I currently work remotely with a few personal training clients and write weightlifting programs for CFP athletes. I am extremely excited to be a part of a great gym and community and look forward to helping others reach and exceed their health and fitness goals!
---
Certifications
 Precision Nutrition Level 1 Coach
CrossFit Level 2 Trainer
USA Weightlifting Sports Performance Coach Level 2
CrossFit Weightlifting
CrossFit Gymnastics
Certificate of Strength & Conditioning Specialists (CSCS, In Progress)
CPR/AED Certified
Interests
Weightlifting, CrossFit, working with my hands, a tasty New England IPA, music, spending time with my wife and our animals, hanging with my friends and being around my incredible family
Quote
"The distance between dreams and reality is called action"
Contact: Joe@crossfitprototype.com
---
Leah Hantman M.S
Prototype Nutrition Coach | Personal Trainer | CrossFit Coach
Leah Hantman has been in the fitness industry for 12 years in a variety of settings from physical therapy to corporate fitness. Leah has degrees in Exercise Science, Human Performance & Nutrition. Leah believes that fitness is for EVERYBODY! She is passionate about helping special populations.
One of Leah's life missions is to get a barbell in the hands of as many women as possible. She is passionate about women's rights and safety issues and thinks that fitness and health is one of the most impactful vehicles for empowering women to feel strong both inside and out.
Leah's passion for fitness started at a young age with volleyball and martial arts. Crossfit was appealing to Leah because it was constantly varied, fast-paced and spoke to her competitive nature. Her favorite part of CrossFit? It forces you to constantly level up and better yourself. Growth is something that is extremely important to Leah both professionally and personally. She enjoys learning and new experiences. Feel free to reach out to her anytime with fitness or nutrition questions!
Certifications:
BS/MS Exercise Science, Human Performance & Nutrition
CrossFit Level 1 Trainer
Precision Nutrition Level 1 Coach
NASM-Certified Personal Trainer
NESTA-Sports Injury Specialist
NASM- Corrective Exercise Specialist
ACSM- Health Fitness Specialist
ACSM- Certified Exercise Physiologist
Functional Movement Screening & Gait Analysis Certified
Body Fat %- Skin Fold Caliper Jackson Polluck 7 Site Method Certified
Poliquin Nutrition
Poliquin Sports Recovery
LIVESTRONG Cancer Specialist
MADDOGG SPIN
Special Olympics & Adaptive Athlete Coach
Yoga L1
Self-Defense
Health Behavior Modification Coach
Behavioral Intervention
ACE Group Exercise
CPR/AED
Interests and Activities: Photography, Crossfit, Craft Beer, Piano, Guitar, Nutrition, Music/shows, Self-Defense, Dogs & spending time with my wonderful husband.
Contact: Leah@crossfitprototype.com
---
Steve Cimino B.S
Prototype Elite Sports Training Coach
Steve began his training career shortly after graduating from Westfield State University. He started exclusively training teams as a skills development coach for the New England Revolution of MLS. Shortly after signing on with the Revolution skills development program, Steve transitioned to their performance development program. Steve was then promoted to director of sports performance, where he focused on the development and progression of all types of athletes. Now working as a group and individual trainer, Steve uses his passion for fitness to push others to succeed.
Certifications:
ISSA Personal trainer
CPR/AED Certified
ICA Fitness & Conditioning for Soccer License
NSCAA National Diploma
Contact: Steve@crossfitprototype.com
---
Brent French
CrossFit Coach
Brent began his CrossFit journey in 2008 while stationed at MacDill Air Force Base in Tampa and has been a member of CrossFit Prototype since 2014. He spent the 1990s as an active duty Air Force officer specializing in the protection of bare bases and sensitive resources. Brent spent several years competing internationally on Air Force teams in marksmanship, obstacle course racing, and tactics. He graduated from the Army's Air Assault, Airborne, and Ranger School as an Air Force officer and has deployments to Cuba, Oman, and Afghanistan. He retired from the military after 27 years of full-time and part-time service in 2018.
In his full-time career, he helps run the business school at Worcester Polytechnic Institute and teaches courses in leadership, organizational behavior, and workplace cultures that promote growth and well-being.
Certifications:
CrossFit Level 1 Trainer
CrossFit Gymnastics Course
Self-Aid and Buddy Care (including CPR/AED)
Favorite Quote: "The human capacity for avoidance is ALMOST limitless."
Contact: brent@crossfitprototype.com
---
Garret St. Onge B.S
CrossFit Coach

"I come from a running background with very informal weight training regimen.  Mike and Brian introduced me to Crossfit workouts and I have been hooked since.  The workouts may seem quick and easy but they challenge every individual of all fitness levels.  The workouts vary both in intensity and type (but with a planned course) keeping the workouts fun. This type of training has provided me with vast improvements in my strength and conditioning and I owe that to Crossfit training.
When Mike and Brian opened CrossFit Prototype, I wanted to make sure I was involved.  I started small with the simple cleaning and maintenance of the club and have moved on to upgrading the club with equipment installation and protection devices to give the clients the best possible experience when they are in the box."
---
Certifications:
CrossFit Level 2 Trainer
CPR/AED Certified
Favorite Quote: "You compete against no one but yourself!"
Contact: garret@crossfitprototype.com
---
Bethany Farrar B.S
CrossFit Coach
Bethany first learned about CrossFit when she was taking classes with Coach Mike back at BSC.. Fitness has always been a passion for her since she received her degree in Physical Education and Exercise Science. CrossFit sparked her interest due to its ever changing routines and having the ability to continually challenge one self. Since starting, she has been in CrossFit competitions and continues to strive for new PRs and be part of the wonderful Prototype community that has become more of a family to her.
---
Certifications:
CrossFit Level 1 Trainer
CPR/AED Certified
Interests and Activities: Lifting heavy, hanging with friends/family, reading, crafting, beaching it, watching movies
Favorite Quote: "The most important thing is to enjoy your life – to be happy – it's all that matters." – Audrey Hepburn
Contact: Bethany@crossfitprototype.com
---
Caitlin Pond M.S
Prototype Girls Club | CrossFit Coach
Caitlin currently holds her CrossFit Level 1 instructor certification and is a former Division III college athlete.  She attended Colby-Sawyer College with a Degree in Biology and minor in Chemistry. Then obtained her Masters Degree in Biotechnology at Worcester State University while working full time at BlueSky Bioservices.
Caitlin competed in track and field through college in multiple events such as hurdles, shot put, javelin, and pole vault. After graduating, she competed in multiple obstacle course races. After completing the Fenway Spartan back in 2012 decided to try our CrossFit. She has been hooked ever since competing in multiple competitions and now looks to bring her wealth of knowledge to CFP!
---
Certifications:
CrossFit Level 1 Trainer
CPR/AED certified
Interests: Anything outside and active paintball, camping, hiking etc. Yoga, food prep, baking (non-paleo high calorie) and cheat meals.
Favorite Quote: Yesterday's the past, tomorrow's the future, but today is a gift. That's why it's called the present. Bil Keane
Contact: caitlin@crossfitprototype.com
---
Nicole Moore
CSM (Client Satisfaction Manager)

Nicole Moore is a Certified Level 1 CrossFit Trainer, who graduated from Massachusetts College of Pharmacy and Health Sciences in 2010. Since then she has worked as a pharmacist for CVS Pharmacy. Nicole developed a passion for fitness training in 2011 when she started doing triathlons and training with Michael Collette at Boston Sports Club, where he introduced her to CrossFit workouts. She fell in love with CrossFit, and found that it was a complete lifestyle change by improving her overall quality of life. She enjoyed the constantly varied workouts, and the ability of it to prepare an athlete for the unexpected. Nicole then received her Level 1 Certification in November 2012 and has since found how rewarding it is to coach others and help them improve themselves.
---
Certifications:
CrossFit Level 1 Trainer
USAW Sports Performance Coach
CPR/AED Certified
Contact: nicole@crossfitprototype.com
---
Christina Wagher
Personal Trainer | Social Media Director
With an extensive culinary background, it is only natural that Christina has a deep love for healthy living and food! If given the chance, she will feed you! Christina has spent many years as a professional level private chef, sous chef, and sushi chef before joining the team at CFP. Cooking still plays a major roll in her life and her goal is to launch her own meal prep service for the gym. Christina (otherwise known as Stina) has been a vegan for four years and loves spreading knowledge and awareness in healthy delicious vegan food. She has always had a passion for helping people, working with them closely, and building meaningful relationships, which is why she knew coaching was her calling. Shortly after she realized fitness was a major passion, she was introduced to CrossFit and she completely fell in love. "CFP has taken me under its wing and allowed me to become part of the team as a developing coach". Coaching CrossFit, Olympic weightlifting, and strength training are her areas of interest and focus. 
Certifications: 
TB Level 1 Coaching Degree 

TB Level 2 Coaching Degree

ACE Certified Personal Fitness Trainer 

(Currently pursuing CrossFit Level 1)

CPR/AED Certified 

Bachelor's in human services

American Translators Association Certified in Spanish 

Serve safe Certified/ Food handlers license 
---
Interests and Activities
: CrossFit, Olympic weightlifting, Cooking, high-end cuisine, eating, painting, art, psychology cosmetology, tattoos, hiking, yoga, animals, spending time with family. 
Favorite Quote: "Our only limitations are the ones we impose upon ourselves" -Napoleon Hill 
Contact: Christina@crossfitprototype.com 
---
All photo credit to Leah Hantman of Faces of Strength photography. For inquiries please e-mail her at Leah.hantman@gmail.com